Montreal offers one of the most unique living experiences in North America. It is a mostly bilingual city, features a huge range of architectural eras and styles, and has among the highest ratios of restaurants per capita in the world. It is highly considered as one of the cities most comparable to Europe, which appeals greatly to those moving from overseas.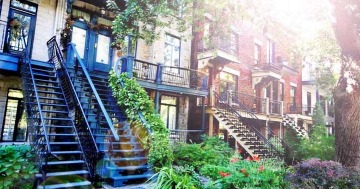 The city also offers a remarkably high quality of life despite a low-cost of living. Montreal is among the most affordable cities in the country. The city has been immune to the trends that have caused incredible housing prices in comparable cities like Toronto, Vancouver, Boston, and Washington, D.C. which have skyrocketed in recent years. This low cost of living has intrigued many people from neighbouring cities to move and call Montreal home in recent years.
According to a recent study by Global News, the average Montreal rent for a two bedroom apartment is $1,208/month. The only major Canadian city or metro area to rank above Montreal in affordability is the Ottawa-Gatineau region, where the average rent is $1,014/month. Following Montreal, the cities of Saskatoon, Québec City, and London also ranked most affordable for rent in the country.
This trend may be on the downfall, as the new developments downtown, and an influx of foreign investment are finally beginning to drive up housing prices across the Montreal metro area. Look to see Montreal pick up as time goes on, much like Toronto has in recent years, due to popularity.
With Montreal's increasing popularity, our LaCite, Le Mille Neuf and Arbora properties filling up quickly for 2019. Are you looking to make the move to Montreal? We still have some suites available, with a ton of space, great location and lots of friendly staff to help your move go smoothly. Inquire with our leasing teams today for more information.